Looking for some real time adventure? are you who loves to do skiing? then you must visit Malam Jaba,which is the landmark of international event in Pakistan. Malam Jaba is located in Swat Valley, Pakistan province in Khyber Pakhtunkhuwa. You will find some best ski resorts in world! where one of the renown international event is taking place. Malam jaba is a hill station in Hindu kush mountain range, home of two ski resort other one is Naltar in Gilgit Baldistan. Swat named as 'Switzerland of Pakistan' is famous for skiing winter festival that take place every year,tourist locals and foreign gathered yearly to experience unforgettable adventure in their lives! What do you get there? well it will be so much for you love skiing. 36 foreign skiers have arrived to participate in international ski race, earlier in Winter Sports Festival that took place in January where tourist witnessed scenic views of Swat and Malam jaba resorts!
CAS International Karakoram Alpine Ski Cup
Skiers coming all the way from Afghanistan,Azerbaijan, Canada, Greece, Tajikistan, Timor, Turkey, Ukraine and United Kingdom to take part in FIS races on the slopes of captivating ski resort.Locals too are taking part in this race to showcase their talent.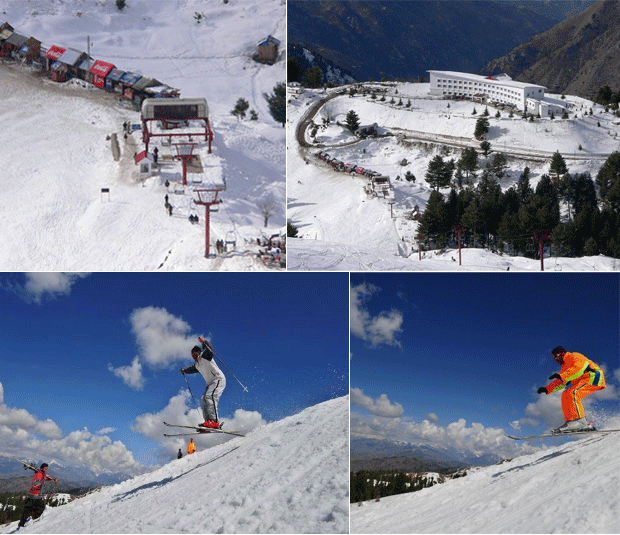 Winter Sports Federation of Pakistan, collaborated with Pakistan Air Force to work for the promotion of winter sports in the country and holding such events will not only boost the tourism industry in the magnificent mountains and valleys of the Northern areas but also help in projecting a positive image of the country all over the world. So we are here to let world know Pakistan is blessed with scenic views and warn and welcoming people.Planning to take part? you can book your trip and get cheap rates. Pakistan have got some amazing ski resorts so don't miss you chance and grab your tickets, you will be witnessing some real time adventure and life changing experience because there is so much more to explore and experience!
Malam Jabba's Winter Festival!
Every year in January Malam Jabba's winter festival take place which is enjoyed by local and foreign tourist.Foreign tourists enjoy activities at the festival every year. They joined groups of Pashtun youth in local dance. The famous Khattak dance of swirling swords drew huge applause. The visitors were stunned by the beauty of Swat. What's more you simply can't resist mouth watering food! you can have your favorite barbecues and different food stalls serving local food of Swat. Not only local cuisine is highlight of the winter festival, but handcrafts,traditional dress also added colors to the festival.
Malam Jabba's Enchanting Beauty!
Malam Jabba has lot of tourist attractions,the famous Malam Jabba's ski resorts also features chair lift.Tourists coming all the way for striking landscape of Malam Jabba that is beyond everything as tourists could go to the mountain peaks, lush green views to travel inside the forests and drink spring water.Sounds exciting? book your trip today and get some amazing deals!
Share your thoughts!