Tired of your routine life? want to escape hectic routine? well there are places where you can find peace of mind! well Pakistan is blessed with amazing sight-seeing.
Attabad Lake-
Attabad Lake also known as Lake Gojal is recognize for its mountain backdrop and unique blue color. The Lake is situated in Gojal Valley, and it was formed by a landslide dam in 2010. Attabad Lake is the biggest lake in Gilgit-Baltistan, and it occupies an area of about 5.2 sq miles. It reached a depth of approximately 330 ft and length of roughly 13 miles on the first week after the landslide started to flow over the dam, partially flooding Gulmit and submerging lower Shishkat. Currently, the lake is about 358 ft deep.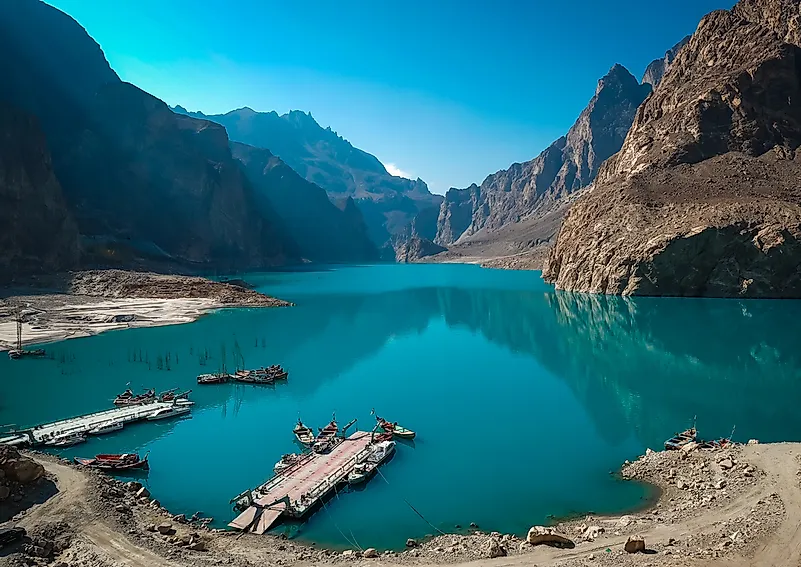 The lake's chilly waters are a stunning turquoise in spring and early summer, when melt-water from the surrounding mountains deposits glacial silt into the lake. In winter, the lake typically freezes over you can see the locals enjoying ice-skating! Most visitors come to enjoy this spectacular landscape when the lake is ice-free.You can enjoy various recreational activities that take place on and around the lake, including boating, jet skiing, and fishing. And with the rise in tourism, an increasing number of hotels and guesthouses have been constructed around the lake, as well as a number of campsites. You can book and make your hotel reservations and avail amazing deals!
Ansoo Lake-
Why it is called Ansoo Lake its because it shaped like teardrop,with its unique shape it is one of the most famous attractions among tourist! Pakistan have some amazing tourist spots that captures the attention of people around the globe.The soothing Ansoo Lake is located in Kaghan Valley of District Mansehra, Khyber Pakhtunkhwa. Ansoo Lake is about 4245 meters above sea level and is considered as one of the highest lakes of Himalayas.
Trip to Ansoo Lake is worth wait! You can have memorable experience, if you visit Ansoo Lake.
Saif-ul-Malook-
The spectacular lake is located at the northern end of the Kaghan Valley near Naran, and in the north east of Mansehra district of Khyber Pakhtunkhuwa. It is the highest alpine lake of Pakistan at an altitude of 3,224 metres and 10,578 feet above sea level.Lake is frozen during winters, due to heavy snowfall,ideal time to visit Saif-ul-Malook is june-september.Facility of camping at the time of the full moon is also available and loved by most of tourist. I highly recommend it if you are someone who loves for those who love to see the moon shining at it brightest amongst five billion stars in the sky Magical isn't it?
The night view of Saif-ul-Malook is absolutely beautiful and you can afford to miss this view! Pakistan tour packages that pocket friendly,and you'll be amazed to see such deals.
Siri Lake-
Siri is situated near Shogran and the way to Payee in Kaghan Valley. It is located at the height of almost 2,590 metres (8,500 ft), an unusual height for a beautiful lake. The area is full of gorgeous greenery consist of large presence of small and large lakes that are nothing less than natural wonders.
Visit Siri Lake and enjoy your most memorable moments with family and friends,to all the adventurous souls out there.Don't miss it!