You think you are great at writing? and want to polish your skill to make your own identity among all! Well you are at the right place then. I will share my experience,and how i started my own blog with you. To guide how you can start your blog in no time, and how to make it interesting and hook readers to read your blogs whenever you post.Blogs should be engaging your reader should be addicted your post. What you can do make you blogs captures readers attention is attainable, you just have to take baby steps to reach your goals! You don't want people to visit your site and end up yawning Oh No no!
A blog should be minimum of 500 words at-least, and how and what you can write to make people stay and read it thoroughly is something you need to learn. Listed below are some basics for beginners to start their own blog:
5 Ways for Beginners to Start their Blog!
As i am also new to this blog world so i'll keep it simple and basic for you as well. So starting off with some basic you can start your blog on WordPress ,it is the first choice of every blogger to startup their blog on Word-press. But there other website too where you can start your blog like WIX, Blogger and other website where you can easily start your free blog in no time!.
Your Domain Name
Here comes the crucial part!.Now that we have discussed how to start your blog so i will further guide you essential for your blog. Choosing a domain is a bit tricky for beginner as people get bit confused, but don't worry i have got you covered!. Your domain name should be interesting, it should be eye-catchy and unique. You may also get some ideas on internet or you can little bit of research on the see other bloggers domain to have a an idea. Now what is domain name?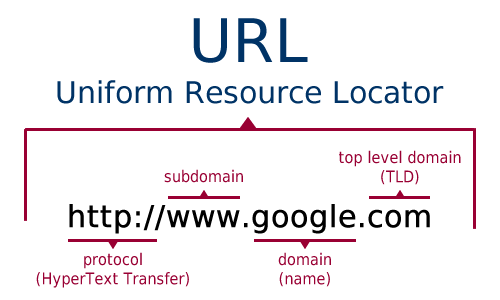 The above image is illustrate the domain name in the red box above, choose wisely.
2. Your First Post
Voila! Almost there, now you are own boss. Write about anything it is your choice completely, you can write any subject matter it could be related to mental health issues or tech advancement it is your call. The biggest advantage is you can play around with topics and its great!,you don't have to follow the instructions of anyone great isn't it?
First post is always sticky post which means it is there when you login your dashboard, but you can edit it if you want.
3. Write your First Blog Post
Choose your topic, lets get that straight your tittle is what make people click and read your blog post. It should be topic that interest large audience and trending among people. First two to three lines if you get the reader there you go you have got viewership readership, and people will visit your blog to see whats new for them. Share facts and figure do comparisons, be informative and authentic your source should be original. Do mention your source plagiarism is not good idea be real with your readers.
4. Use Phrases, Quotes &Images
Make blogs interesting for your readers, there are several ways you can do it. Use slang words engage your readers ask questions add up quotes and images related to your readers. Use synonyms play around with words show your excitement towards your readers, be interactive. Socialize! there are other bloggers around you read their post comment and share your thoughts so next time you post they can visit your post. That is how thinks will work out for you.
5. Bonus point You Can Earn Money via Blogging!
Yes! you heard that right you can earn and be self employed. You can get paid for your passion Amazing! . You don't have to to boring job to make money Wow!. How can you earn? well you can add your website to Google AdSense and just follow the steps. You can also write product or game reviews to get for your blog post cool ain't it?
Take the first step and you are half way there!, before posting make sure you proofread make a good impression on your audience. Don't be afraid of failures that is what makes you make a move keep your intentions pure and you wont fail! even if you you wont regret trying. Now you might not as much views in the first post don't loose hope keep writing and spread among you family and friends in the start.You may not get response but may be your 3rd or 4th post will steal the show! who knows right?